In Gibi (name pronounced as "JEEbee") ASMR's video "Gibi ASMR DNA Test | What's My Ethnicity??" posted on 28th June 2019, she revealed her last time. In this video, she opened up about her background and ethnicity. Her fans were quick enough to see notice her name. 
Gibi has been active on Youtube since 2016, making Autonomous sensory meridian response videos. She has now amassed 3.35 million subscribers but still stays pretty under the radar. 
Gibi Let's Her Real Name Slip
Gibi, being a famous Youtuber, has managed to remain mysterious throughout these years. Her fans often shower comments of her being a reserved person for not revealing her real name. 
On her What's My Ethnicity video, she shared the result where it showed she is 37 percent Italian and 21 percent French and German. On her 23andMe paperwork, her fans noticed Gibi Klein was listed on it. 
Moreover, on her video posted on 26th November 2020, Gibi revealed that her real name is Gina. She opened up about telling her real name because she wanted to reduce stress for her friends who were afraid of accidentally revealing it. 
In the same video, she also explained that she kept her real name private due to some privacy reasons. In addition, Gibi noted that her fans could still call her by her moniker. 
How Her ASMR Career Started 
In her previous days, Gibi had trouble falling asleep, and Youtube videos helped her get to bed. During an interview with The Chicago Tribune, she said that she always turn to Youtube while going to bed which helped her a lot. Then she mentioned that if she ever creates a YouTube channel, she would do ASMR. 
"When I was a film major, I was always into YouTube; I loved the internet culture; I loved everything about ASMR. I was so familiar with the community and who was in it and the little nuances. I was like, 'If I'm going to start a YouTube channel, I think I would do ASMR.'"

"I didn't think anyone would like what I had to offer, but I knew I wanted to take it seriously."
On 18th June 2016, Gibi created her YouTube channel under the username Gibi ASMR and started posting ASMR videos. Soon she became one of the most prominent ASMRtists. 
Some of her videos are, '[ASMR] Sleep Clinic Roleplay - Trigger Test (Whispered),' '[ASMR] Dark & Relaxing Tapping & Scratching [Close Whispers],' 'The Cranial Nerve Exam – ASMR,' 'ASMR Sleep & Relaxation Treatment,' and '[ASMR] Intense Ear Attention & Mouth Sounds (Tktktk, Clicking, Shooooop).'
Along with popularity, Gibi also received criticism. In 2018, Youtube removed ads from her post stating that her videos were not ad-friend due to the sexually suggestive content. 
Later, Youtube reinstated her ads after Gibi defend her content. 
There are certainly arguments for adding sexuality into your ASMR; people add their flairs to whatever they do, whether it's to get more views or whether it's because that is what they genuinely like." 

"But at its core, ASMR is not sexual. Like somebody drawing your picture and staring at your face is intimate, not sexual." 
Furthermore, the talented artist also regularly roleplays as a nurse, flight attendant, big sister, librarian, wine merchant, and hotel receptionist in her videos.
As an avid cosplayer, she also has a second channel where she posts gaming videos like 'Overwatch,' 'Life is Strange,' 'The Sims 4', 'Dream Daddy,' 'Overcooked,' 'Neopets,' 'Old School Runescape,' and 'Pokemonz.'
Background & Age
Gibi was born on 19th December 1994 in New York, the United States. She has not revealed much about her parents, but it is known that she has a brother. 
For education, she is a Northwestern University, Illinois graduate. Gibi, 26, graduated in 2017 with a degree in Film. 
Gibi's Married Life
Gibi is married to her longtime boyfriend named Ben, who is also a student at Northwestern University.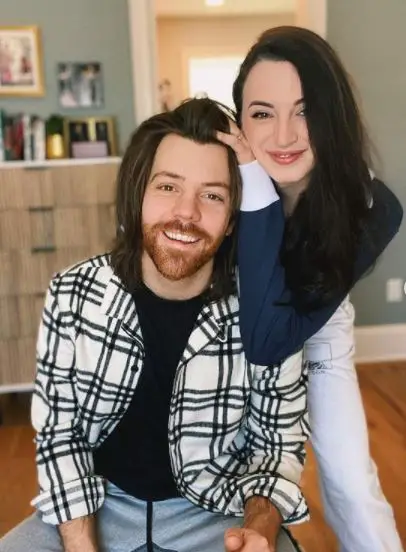 The couple first began dating in 2013, and the first impression of Ben attracted Gibi. Gibi, who herself has an impressive height of 5 feet 10 inches (1.78 meters), found his friendly, innocent face but a manly, tall, and athletic appearance very suitable for the type of guys she liked. 
Gibi was too nervous about approaching him and only watched him from afar. Interestingly, things took a turn after her friend organized a group dinner at a Naf Naf restaurant where Ben was also present. Her friend played the part of cupid and told Ben about Gibi's crush on him. 
While having a little chit-chat and dinner, Gibi realized she was allergic to sesame, due to which she had to sprint out to buy anti-allergy medicine, Benadryl. Ben got concerned about her, but after returning, Gibi and Ben quickly bonded over no time. 
Check Out: Insight The Deadliest Catch Star Jonathan Hillstrand's Wife Heather Hillstrand!
However, the couple did not end up together as Gibi was dating her high school boyfriend. Gibi told Ben about him and said she could not date him, which made Ben let go of her. 
Soon, Gibi realized her feeling towards Ben and broke up with her boyfriend. It took some time for them to be together, but after they got together, they were inseparable. 
The couple got engaged and later exchanged their wedding ring in October 2019. 
Interesting Facts
Gibi has an estimated net worth of $2 million. She makes an earning from her YouTube channel's ad revenue. 
She also gets sponsorships from brands and does brand endorsements for Blue Apron, UniWigs, Dollar Shave Club, Lovebook, Displate, Audible, Tiny Home, SONIC Drive-In, GFuel, Crunchyroll, TikTok, and many more.