Spanish actor Diego Osorio and retired Olympic skier Lindsey Vonn are dating! 
The two were spotted with linked arms in New York City on May 19, Wednesday in the pictures published by Page Six. 
So, here is everything you have to know about Diego Osorio.
Diego Osorio's Bio: His Family Background
Diego Osorio was born as Diego Osorio Nicolas-Correa on the 31st of December under the zodiac sign of Capricorn. Hailing from Madrid, Diego has a family background aristocracy.
Interesting Read: Introduction To Annie Lederman - Stand Up Comedian's Sense Of Humor Comes From Her Father
According to vanitatis, Diego was born in privilege as the son of late Miguel Osorio y Díez de Rivera, also known as Melu Alburquerque. Melu Alburquerque took the surname of the duchy that his father, Miguel Osorio y Martos, 18th duke of Alburquerque, had.
Diego's father embraced the titles of Marquis de los Balbases and Count de la Corzana. He was the brother of Beltrán Osorio y Díez de Rivera, a famous horseman and the father of the King and 19th Duke of Alburquerque.
The now-deceased duke, Beltrán Osorio y Díez de Rivera was born to Miguel Osorio y Martos, 17th Duke of Alburquerque and Inés Díez de Rivera y Figueroa - the 17th Duke of Alburquerque was Gentilhombre Grandee of King Alfonso XIII. 
After Diego's father died, his noble titles went to his older brother, Miguel.
Diego Osorio's Career
Diego is a Spanish actor who has several movie credits including 'Roshambo' in 2013, 'Drug Mule' in 2016, and 'HotSpot: A Guide to Finding Love' in 2019.
While You are Here: Who Is Joey Edgar? Get Along With The Star Of 'Swamp People'
On top of being an actor, Diego is also the founder and chief creative officer of premium tequila line Lobos 1707, with Lebron James and CEO Dia Simms (former president of Combs Enterprises).
Lobos 1707 is a tequila line under the liquor holding company, Mezorio Spirits - Mezorio is a company that Diego founded with Chelsea Clinton's husband, Marc Mezvinsky.
Diego Osorio and Lindsey Vonn
On May 19, Wednesday, Diego was photographed arm in arm with retired US Olympic alpine skier Lindsey Vonn in New York City.  
As confirmed by PEOPLE, a source said, "It's new and they're enjoying getting to know each other."
"They're having fun and seeing where it goes."
The two were spotted enjoying their time while walking around SoHo.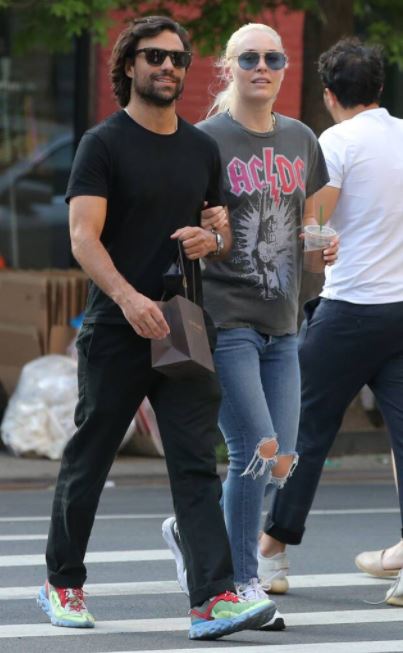 The couple has yet to give an official statement on their relationship. 
This news comes five months after Lindsey announced her breakup from NHL player P.K. Subban. The two were engaged after three years of being together.
His Previous Relationships
Diego Osorio has dated several other celebrities in the past as well. That list included Spanish model Eugenia Silva, architect Marta Diego, Isabel Preysler's daughter Ana Boyer, and Bono's daughter Jordan Joy Hewson. 
More From StuffsThatMatter: Who Is Scott Campbell Jr's Daughter Stormee Campbell?
While details on his relationships are not open, Diego has opened up about his dating life with ex Jordan Joy Hewson. Their relationship came to the public on Christmas of 2017 when Jordan posted a picture of the two on her Instagram account.
"We met in NY, through mutual friends. I have never hidden it and it was Jordan who first made it public by posting a photo of us on her account. What unites us is that we have a good time, we mix and she is fun. We share many tastes. From friends and sports to fun. She is very intelligent, very funny, very committed and supports me in work." - Diego Osorio to Vanitatis
In the same interview, Diego expressed his desire to start his own family later than several people. 
"I have a wonderful family and I would love to start my own. My father married at 44 years old and therefore, if I follow his example, I still have a lot of time left. I'm not in a rush and it's certainly not in my current thinking. When it comes it will come."