Florent Bonadei has been catching quite some attention with his appearance on Netflix's Bling Empire. So, let's get to know Florent a bit more.
15 Facts About Florent Bonadei
Florent Bonadei blows out his birthday candles every 21st of August as a Leo. 
While there is little to no information on Florent's family life, there was a time when his family was mentioned in an Instagram post - it was when Florent upload a picture of Piece Montee and stated that his family had made it for his birthday.
He stands at a height of 5 feet 9 inches (1.82 meters) with a weight of 74 kgs. 
Florent is from Paris, France, - when it comes to his ethnicity, he is an Italian from his father's side and Brazilian/French from his mother's side. 
For his education, Florent went to Universite Toulouse 1 Capitole as an undergraduate. Later, he attended the European School of Economics and graduated with a master's degree and the University Paris Nanterre for a management license. Florent also got an 'English First Certificate from Cambridge' from the University of Cambridge.
Florent contributes as a manager in the fashion industry. He started as a demonstrator for DSQAURED2 SPA.
The reality star has worked with famous brands like Catherine Malandrino, Berluti, and also the luxury fashion house Maison Martin Margiela.
From 2014 to 2017, Florent served as an assistant manager and director for Valentino. 
As of now, Florent works for Boucheron, a French luxury jewelry house. Last reported, his job at the brand for the last 10 months had been his contribution as an EMEA & North America Business Developer & Private Client Development Manager. Before this, he was a private client executive in the same company. 
Florent is also an art collector and loves collecting 70's furniture and sculptures. 
Putting aside his professional background, Florent recently appeared on the Netflix reality show, Bling Empire. He made an appearance as the best friend of Anna Shay, one of the show's major cast members. Florent and Anna have a very close relationship as best friends and often make appearances on each other's Instagram. 
During the end of the first season of Bling Empire, Kane Lim asked Florent for his number, to which Florent replied that he was single and very much available. As obvious as it seems that Florent is not straight, we cannot assume that he is gay either since he has not confirmed anything. 
Florent has been traveling the world ever since he was 10 years of age, from India and Canada to Mexico and South Africa.
His favorite place on earth is Saint Barthelemy and considers it his second home and a paradise. 
He has a deep appreciation for his best friends, Anna Shay, Veronica Marucci, and Arina Pritch - Florent is also a godfather to Veronica's son. You can find Veronica on Instagram under the username @veronicamaruccichapeaux, and Arina under the username @arinapritch.
Florent Was a Showjumper Who Loved His Horse Dearly
Florent used to be a horse rider and a showjumping champion of France in 1999. He participated in show jumping events with his beloved horse, Valkyri - Florent bought Valkyri when the horse was 8 years old and had him until last year when he passed away at the age of 33 years.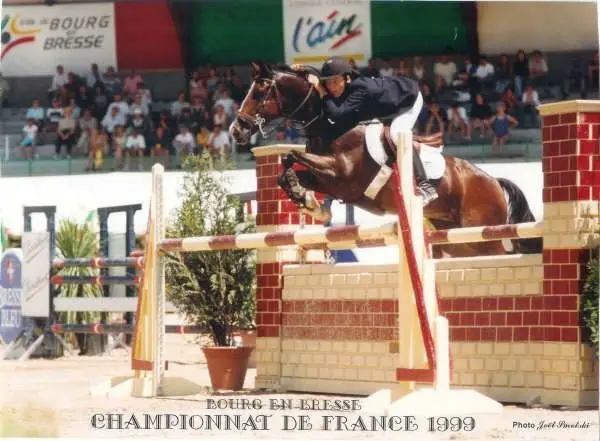 With Valkyri, Florent won regional championships several years in a row. Since he had Valkyri for 25 years, Florent maintained a special bond with him. He talked very enthusiastically about his horse, and the love Florent had for Valkyri was apparent in his messages.