HGTV's Celebrity IOU is a series where Hollywood celebrities and A-listers express their deep gratitude to the individuals who have had a significant impact on their lives by surprising them with extensive, heartwarming home renovations that bring everyone to tears.
This time, LeAnn Rimesone, of the celebrities, surprised her friend Roger Canevari with a home renovation on HGTV's Celebrity IOU. 
Following the launch episode where Kris Jenner showed her gratitude towards her lifelong friend Lisa Miles, viewers will be seeing LeAnn and Roger. 
In this article, we focused on Roger, and for those who have no idea who Roger is, this is the perfect place to explore him. 
Who is LeAnn Rimes' friend Roger Canevari?
Roger is a jewelry designer by profession and a former owner of Mantis 7 Jewels which sold hand-crafted items in Los Angeles and New York. 
Roger also enjoys cooking, and during his off time, he cooks specifically Italian cuisine. During the surprise renovation from Celebrity IOU, Roger's inadequate kitchen was transformed into a state-of-the-art kitchen. 
Also Read: Who Is Daniel Fryer? Know More About Victoria's Secret Angel Taylor Hill's Fiancé!
In addition, Roger is a Valley View High School graduate and later trained in jewelry design at the Fashion Institute of Technology. 
Roger On Celebrity IOU
Roger has been a friend and a counselor of American singer/songwriter/actress LeAnn for a long time. He has always been there for her through low times.
Rimes also shared that Roger always puts others first and takes care of everyone around him. Moreover, LeAnn also refers to Roger as her second dad because he can see right through her without a word. 
LeAnn also mentioned that she started her music career at a young age, which led to much anxiety and depression, and the person who helped her was Roger. 
"I wanted to do something special for you because you've helped me so much in my life. Eight years ago, when I was probably at the lowest point of my life, you basically saved my life. I love you so much."
To show how grateful she is towards her dear friend and lifesaver, she turned to the Property Brothers for help in surprising her friend Roger. She physically helped him with the renovation work herself. 
When LeAnn showed him the big reveal, Roger was in shock and overwhelmed. Roger took to Instagram to thank LeAnn and Property Brothers for the incredibly humble surprise. 
Facts On Roger
Roger was born on 1st August 1960, making his Leo. He embraces Italian ethnicity. 
His father was a veteran and retired Sergent who is no more in this world. More about his family, he has an older sister named Missy Ann.
When he was young, he was molested by his high school coach  
Roger stands tall at the height of 5 feet 10 inches (1.77 meters). Even at the age of 60, he has a fantastic body he maintained through boxing. He trained with the MMA coach Jon Durrant; however, he did not build his career in boxing. 
Check Out: Is Courtney Veale Dating? More About The 'Below Deck Mediterranean' Season 6 Crew Member
Canevari has garnered a net worth below $800K. 
Talking about his personal life, Roger is openly gay and is married to his husband, Darrell Brown, a songwriter, manager, arranger, and record producer. Darrell has co-written the hit Why Don't We Dance by Josh Turner and You'll Think of Me by Keith Urban.
Roger first met his partner back in January 2001 but got married after four and a half years on 27th August 2005, way before the USA permitted them to get married.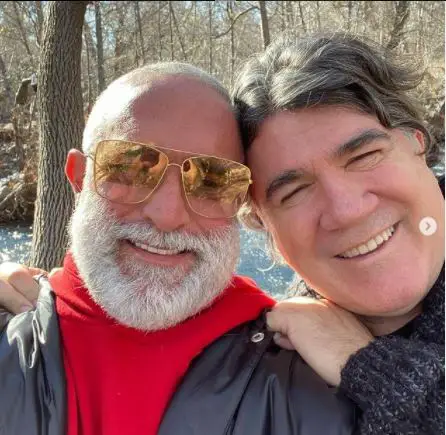 The couple is parents to their lovely dog named Tyson Canevari Brown.