Love Island is set to welcome two new bombshells Aaron Simpson and Priya Gopaldas, just as some cast got dumped. Hugo Hammond was one of the cast members dumped last week. 
Tyler, Dale, Jake, Abigail, Mary, and Kaz received the fewest votes and were therefore at risk of being dumped from the island. One girl and one boy are set to go, and the fellow islanders will take the decision. The girls' fate will be in the boy's hand and vice versa. 
Aaron, an English professional footballer, entered the villa to test the relationship. In this article, let's find out who Aaron is and who he could have his sights on. 
Who Is Aaron Simpson?
Aaron, born in 1997, celebrated his birthday back on 7th March. Hailing from Canterbury, he was raised by his biracial parents (father a Black man and mother Caucasian). 
Aaron is a professional footballer playing for clubs including Kilmarnock, Dover Athletic, and Sutton United. He helped win promotion to the Football League last season. He said, 
"I started playing when I was about four or five."

"I signed my first professional contract when I was 17. I'm 24 so it's been quite a journey."
Simson was about four or five when he first started playing soccer, and at seventeen, he signed his first professional contract. 
Don't Miss: Jason Sabo & Lisa Vanderpump's Daughter Pandora Expecting First Baby!
Other than being a footballer, he is also a fitness coach/result coach. 
Currently, Aaron signed up for Love Island, believing it would be an amazing experience, opportunity, and he wants to start a long-term relationship during his stay.
Simpson On Love Island
Aaron Simpson participated on Love Island, and in case he gets lucky, a hefty cash prize awaits for him. 
Before entering the villa, he had already picked out Chloe and Mary as the two girls he has his eye on. He also said he would be bringing good energy and positive vibes during his stay in the villa. 
While describing what he is looking for in a partner, he said, 
"Someone who is family orientated because my family is really important to me." 

"I'm very close to my mum, dad, and my sister. I've got a massive family so someone that can deal with that.
Aaron added, 
"I'm very confident and I can chat for ages so sometimes it's probably easy to leave me to do all the talking in certain situations." 

"So someone who has a big enough personality to hold their own and put me in my place.

"Someone who also isn't too serious as I'm a very spontaneous person."
Simpson said Chloe and Mary are the two islanders who are most his type in terms of personality.
As Aaron joined the show looking for a romance on the island, fans will see all the drama and romance on aired. 
Facts On Aaron 
Aaron has a sister named Rianna Simpson. His sister is 19-year-old as of August 2021. On 21st January 2021, Aaron wished Happy Birthday to his little sister on his Instagram. 
Happy bday to the golden child👶🏽 stop growing up😩 love you ❤️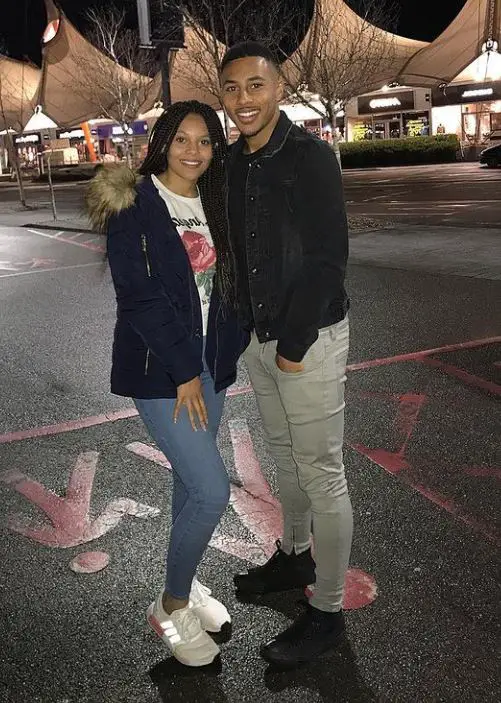 Aaron now lives in Kent, a county in South East England. 
He stands at the height of 5 feet 8 inches (1.73 meters). Being a tattoo lover, he has a generously big patterned black tattoo on his right forearm.
More From Stuffsthatmatter: Get To Know Amanda Hite! Wife Of Julie Rodgers From "Pray Away"
Talking about his social media presence, he is active on Instagram under username @aaronsimpsonn. He has 13K followers and 85 posts on his account. Meanwhile, he cannot be located on Twitter and TikTok. 
As per his economic status, he has made an estimated net worth of $250K.